Mini Cinnamon Rolls on a Stick with Vanilla Icing Dip
A fun way to serve cinnamon rolls for any get together. Perfect for a bridal or baby shower with color coordinated toppings!
Mini Cinnamon Rolls on a Stick with Vanilla Icing Dip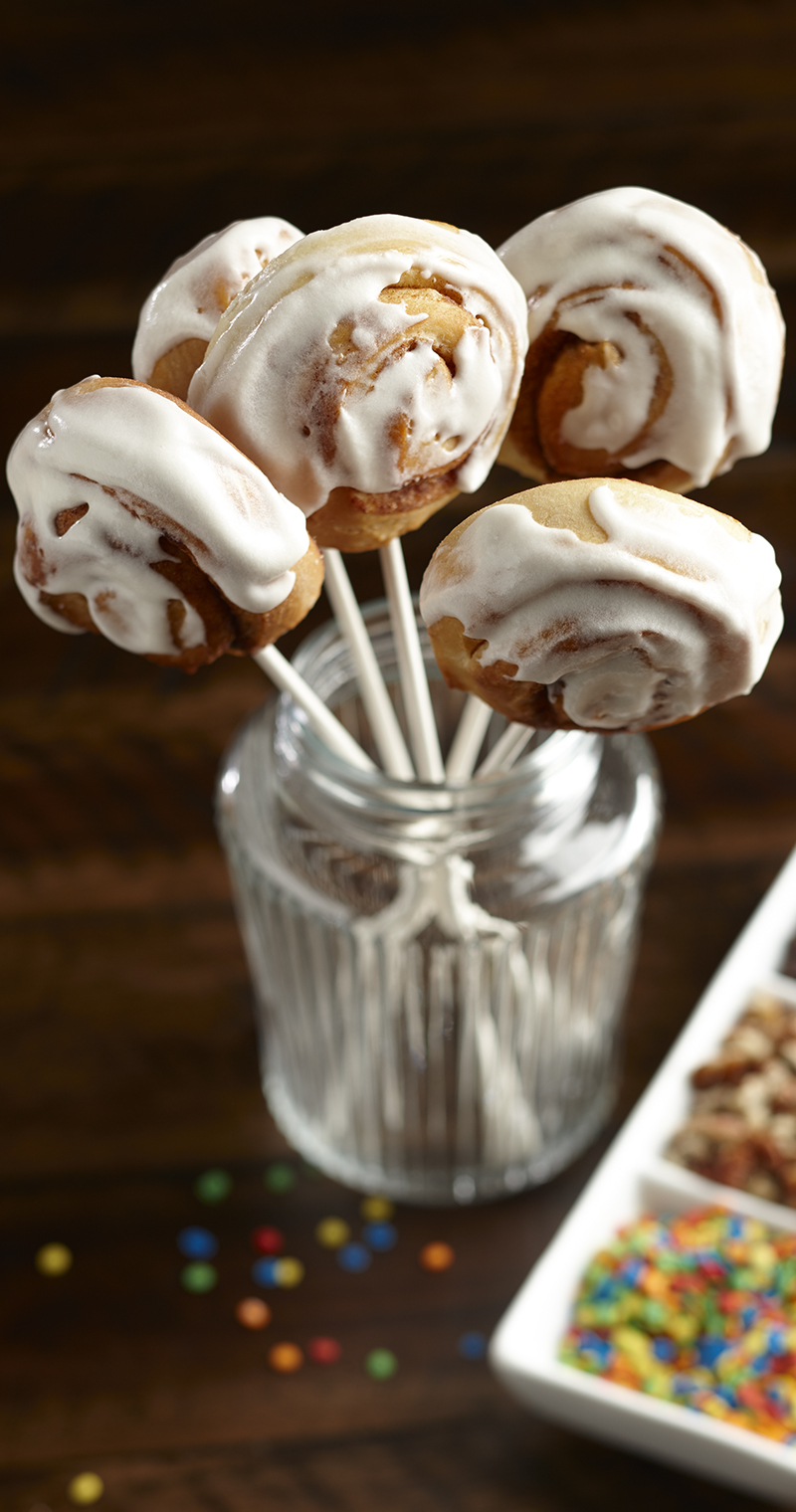 Bake Time
15 to 18 minutes
Rise Time
45 to 60 minutes
Swipe right
difficulty

Intermediate

Yield

24 rolls

Prep Time

0:40

Bake Time

15 to 18 minutes

Rise Time

45 to 60 minutes
Ingredients
2-1/2 to 3 cups all-purpose flour
3 tablespoons sugar
1 (-/ tsp.) packet Fleischmann's® RapidRise® Instant Yeast
1/2 teaspoon salt
3/4 cup water
3 tablespoons butter or margarine
1 egg
Filling
1/4 cup sugar
1-1/2 teaspoons ground cinnamon
2 tablespoons butter OR margarine, very soft
Vanilla Icing Dip
2 cups powdered sugar
2 tablespoons butter OR margarine, very soft
4 to 5 tablespoons milk
1 teaspoon pure vanilla extract
24 skewers OR lollipop sticks
Optional toppings, sprinkles, chopped nuts OR chopped can dies
Directions
Combine 1 cup flour, sugar, dry yeast and salt in a large mixer bowl and stir until blended. Place water and butter in a microwave-safe bowl. Microwave on HIGH in 15 second increments until very warm but not hot to the touch (120° to 130°F. Butter won't melt completely). Add to flour mixture with egg.
Beat 2 minutes at medium speed of electric mixer, scraping bowl occasionally. Add 1 cup flour; beat 2 minutes at high speed, scraping bowl occasionally. Stir in just enough remaining flour so that the dough will form into a ball.
Knead on lightly floured surface until smooth and elastic and dough springs back when lightly pressed with 2 fingers, about 6 to 8 minutes. Cover with a towel; let rest for 10 minutes.
For filling, combine sugar and cinnamon in a small bowl. Set aside.
Roll dough into a 7 x 24-inch long, narrow rectangle using a rolling pin. Spread 2 tablespoons butter over dough, stopping at least 1/2-inch from the edges on the long sides. Sprinkle evenly with cinnamon sugar mixture. Beginning at long end of the rectangle, roll up tightly. Pinch seams to seal. Cut into 24 equal pieces. Place about 2 inches apart, cut sides down, on greased baking sheets. Cover with towel; let rise in warm place until doubled in size, about 45 to 60 minutes.
Bake in preheated 350°F oven for 15 to 18 minutes or until rolls are golden brown. Cool on wire rack for at least 10 minutes. Insert skewers.
Combine all Vanilla Icing Dip ingredients in a large shallow bowl and beat until creamy. Icing will be thin. Let guests "dip" the tops of their rolls into the icing OR drizzle icing over all. If desired, serve with various toppings for sprinkling over rolls.
TRIED THIS RECIPE? Share with our community. #FLEISCHMANNSYEAST @FLEISCHMANNSYEAST
yeast 101
tips & tricks
techniques & how-tos