Ham and Cheese Calzones
Everyone will be pleased to find a delicious surprise inside this bun!
Ham and Cheese Calzones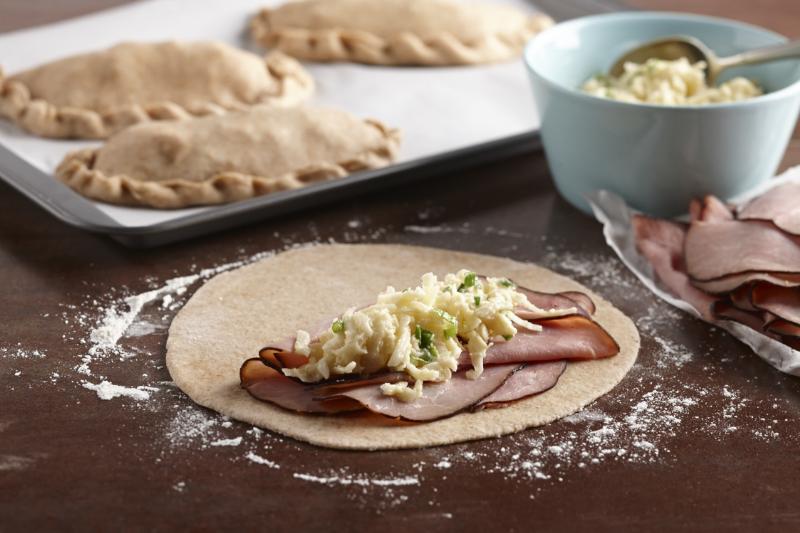 Bake Time
30 to 35 minutes
Swipe right
difficulty

Intermediate

Yield

10 calzones

Prep Time

0:30

Bake Time

30 to 35 minutes

Rise Time

30 minutes
Ingredients
2 cups whole wheat flour
2 tablespoons sugar
1/2 teaspoon salt
1 (2-1/4 tsp.) envelope Fleischmann's® RapidRise® Instant Yeast
1 cup milk
1/3 cup butter OR margarine
1 egg
1-1/2 to 2 cups all purpose flour
1/2 cup mayonnaise
2 cups shredded Swiss cheese
1 tablespoon Dijon mustard
1-1/2 tablespoons sliced green onion
1 pound, 4 ounces thinly sliced ham
Directions
Mix whole wheat flour, sugar, salt and undissolved yeast in a large mixing bowl. Heat milk and butter until very warm (120° to 130°F). Add warm liquids to flour mixture and stir together. Add egg and continue beating for two minutes. Gradually add remaining all-purpose flour to form a soft dough. Turn dough out onto a lightly floured surface. Knead for 4 to 6 minutes until dough is smooth and elastic. Cover and let rest 10 minutes.
Combine mayonnaise, cheese, mustard and green onions in a small mixing bowl; set aside.
Turn dough onto lightly floured surface and divide into 10 equal pieces. Roll each piece into an 8-inch circle. Place 2 ounces of ham slices on one half of dough. Dollop ham with 2 to 3 tablespoons of mayonnaise mixture. Fold in half and pinch edges to seal. Place on greased baking sheets, cover and let rise 30 minutes.
Make two small slits in top of each calzone with sharp knife. Bake in a preheated 375°F oven for 30 to 35 minutes or until lightly browned on top.



Variation: Use bacon in place of ham. Or replace ham and Cheddar with roast beef and Swiss.
TRIED THIS RECIPE? Share with our community. #FLEISCHMANNSYEAST @FLEISCHMANNSYEAST
yeast 101
tips & tricks
techniques & how-tos