Raspberry Cream Cheese Coffee Cake
Rich dough with both a cream cheese and raspberry filling. Perfect for brunch or as dessert.
Raspberry Cream Cheese Coffee Cake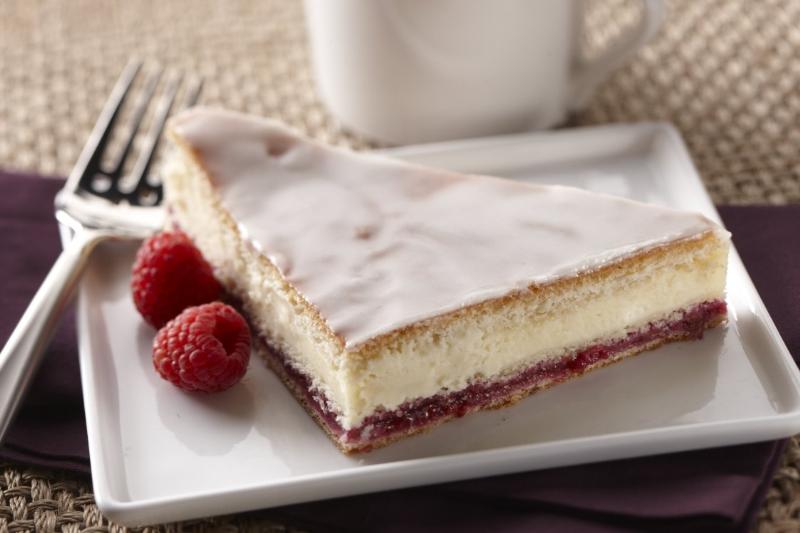 Bake Time
40 to 45 minutes
Rise Time
1-1/2 to 2-1/4 hours
Swipe right
Yield

12 servings

Prep Time

0:40

Bake Time

40 to 45 minutes

Rise Time

1-1/2 to 2-1/4 hours
Ingredients
Dough
3/4 cup warm water (100? to 110F)
1 (2-1/4 tsp.) envelope Fleischmann's® Active Dry Yeast
3-1/4 to 3-1/2 cups all purpose flour
2 tablespoons sugar
1/2 teaspoon salt
1 egg
1/2 cup butter, softened
1 tablespoon milk OR sour cream
Raspberry Filling
1/3 cup sugar
1 tablespoon plus 1 teaspoon corn starch
6 ounces (1-1/2 cups ) fresh OR frozen whole raspberries
1/3 cup water
Cream Cheese Filling
1 package (8 ounces) cream cheese, softened
1 egg
1/3 cup sugar
1 tablespoon plus 1 teaspoon corn starch
1 teaspoon lemon juice
1 teaspoon pure vanilla extract
OR 1/2 teaspoon almond extract
Frosting
1-1/2 cups powdered sugar
2 tablespoons butter, softened
2 tablespoons milk
1 tablespoon lemon juice
Directions
Dough: Combine water and yeast in a small bowl; let rest 5 minutes. Combine 3 cups flour, sugar and salt in a large mixer bowl. Add yeast mixture, egg, butter and milk. Beat on low speed to blend; beat on medium speed 2 to 3 minutes, adding additional flour as needed to make a soft dough.
Turn dough out on lightly floured surface and knead until smooth and elastic, about 8 to 10 minutes. Place in greased bowl, turning to coat. Cover and let rise until doubled, 1 hour to 1-1/2 hours.
Punch down dough; divide into three parts. Grease a 13 x 9-inch baking pan. Pat one part of dough into bottom of pan, pressing up edges a bit. Carefully spread with raspberry filling. Roll one of the remaining pieces of dough, just to fit pan and place over raspberry filling. Top with cream cheese filling. Roll out remaining dough and place over cream cheese filling. Let rise for 30 to 40 minutes until almost doubled. Bake at 350°F for 40 to 45 minutes. Remove from oven and let cool slightly before frosting.
Raspberry Filling: Combine sugar and corn starch in a small saucepan. Add raspberries and water. Cook until thickened and sauce is clear, about 5 to 7 minutes. Set aside.
Cream Cheese Filling: Combine all ingredients in a medium bowl with a mixer, beating until smoothly. Set aside.
Frosting: Beat all ingredients together until smooth. Set aside.
TRIED THIS RECIPE? Share with our community. #FLEISCHMANNSYEAST @FLEISCHMANNSYEAST
yeast 101
tips & tricks
techniques & how-tos