Soft Pretzels
Fun to bake with kids but enjoyed by all ages!
Soft Pretzels
print recipe
pin recipe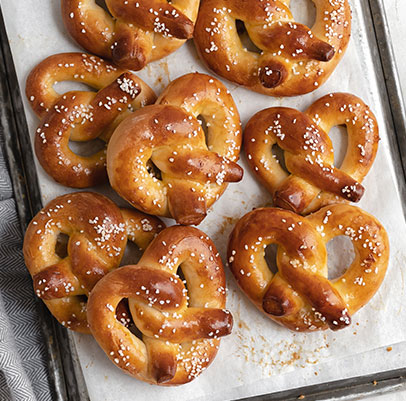 ingredients
4 to 4-1/2 cups all-purpose flour
2 tablespoons sugar
1 (2-1/4 tsp.) envelope Fleischmann's® RapidRise Yeast
1-1/2 teaspoons salt
1 cup milk
1/2 cup water
2 tablespoons corn oil
2 eggs lightly beaten
Coarse salt, grated Parmesan cheese, poppy seeds or sesame seeds"
---
DIRECTIONS
Combine 2 cups flour, sugar, undissolved yeast, and salt in a large bowl. Heat milk, water, and oil until very warm (120° to 130°F); stir into flour mixture. Stir in enough remaining flour to make soft dough. Knead on floured surface until smooth and elastic, about 4 to 6 minutes. Cover; let rest on floured surface 10 minutes.
Divide into 14 equal pieces. Roll each piece to 20-inch rope. Cover; let rest 5 to 10 minutes until risen slightly. To shape into pretzels: Curve ends of each rope to make a circle; cross ends at top. Twist ends once and lay over bottom of circle. Place on 2 greased baking sheets.
Brush with beaten eggs. Bake at 350°F for 15 minutes. Remove from oven; brush again with eggs. Sprinkle with salt, cheese, poppy seed, or sesame seed.
Return to oven and bake for 15 minutes or until done. Remove pretzels from baking sheets; let cool on wire racks.
TRIED THIS RECIPE? Share with our community. #FLEISCHMANNSYEAST @FLEISCHMANNSYEAST
yeast 101
tips & tricks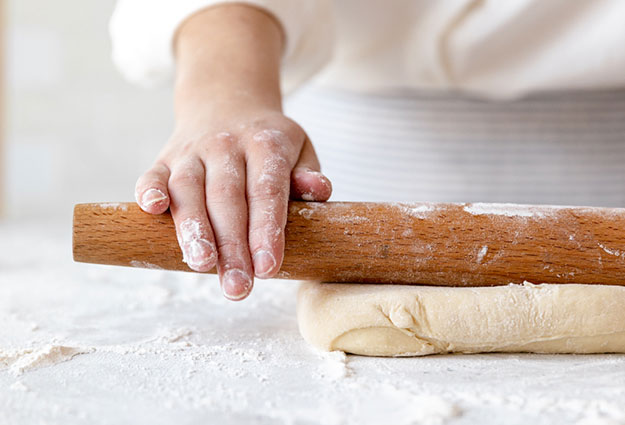 techniques & how-tos