Parker House Rolls
Score points for comfort with these delicious homemade cinnamon rolls. You'll keep your family coming back for more with each delectably sweet cinnamon swirl.
Parker House Rolls
print recipe
pin recipe
Rise Time
30 minutes (OR 12 to 24 hours option)
Bake Time
25 to 30 minutes
Rise Time
30 minutes (OR 12 to 24 hours option)
Bake Time
25 to 30 minutes
ingredients
4-3/4 to 5-1/4 cups all-purpose flour
1/3 cup sugar
2 envelopes Fleischmann's® RapidRise Yeast
1-1/2 teaspoons salt
3/4 cup milk
3/4 cup water
1/4 cup butter or margarine
1 egg
1/4 cup butter OR margarine, melted
---
DIRECTIONS
Combine 2 cups flour, sugar, undissolved yeast and salt in a large mixer bowl. Heat milk, water, and 1/4 cup butter until very warm (120o to 130oF). Stir into flour mixture. Beat 2 minutes at medium speed of electric mixer, scraping bowl occasionally. Add egg and 1/2 cup flour; beat 2 minutes at high speed. Stir in enough remaining flour to make a soft dough. Knead on lightly floured surface until smooth and elastic, about 8 to 10 minutes. Cover; let rest 10 minutes. (Or, if desired, place dough in a greased bowl, cover with plastic wrap, and allow to rise in refrigerator for 12 to 24 hours.)
Divide dough in half; roll each half to a 12-inch square, about 1/4-inch thick. Cut each into 6 (12 x 2-inch) strips. Cut each strip into 3 (4 x 2-inch) rectangles. Brush each rectangle with melted butter. Crease rectangles slightly off center with dull edge of knife and fold at crease. Arrange in rows, slightly overlapping, on greased baking sheets, with shorter side of each roll facing down. Allow 1/4-inch of space between each row. Cover; let rise in warm, draft-free place until doubled in size, about 30 minutes.
Bake in preheated 400oF oven for 13 to 15 minutes or until done. Remove from sheets; cool on wire rack. Brush with 1/4 cup melted butter.
TRIED THIS RECIPE? Share with our community. #FLEISCHMANNSYEAST @FLEISCHMANNSYEAST
yeast 101
tips & tricks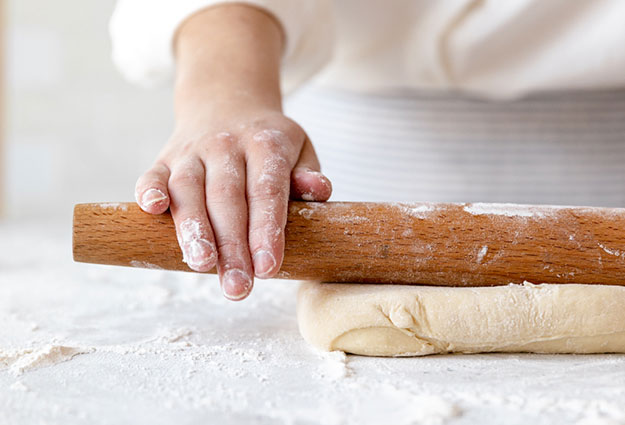 techniques & how-tos